Ladakh is also known as Land of High Passes, the Land of Gompas, the Land of Nomad and one of the most beautiful destination for adventure lover, when it comes to reaping pleasure out of adventure activities and sports. Sited in the northernmost part of India, Ladakh is at a distance of some seven kilometers from the Indus River and its extensive valley. India is rich with places in the north that are copious with scenic beauty and ample scope for adventure and fun.
Proudly possessing high mountainous terrains that have altitudes ranging from 9,000 feet (2,750 miters) at Kargil to 25,170 feet (7,672 miters) at Saser Kangri in the Karakoram, Ladakh has India's most fun-filled trekking routes. Additionally, the temperature in summers seldom exceed about 27°C in the shade, while in winter they may plunge to minus 20°C in Leh.
Apart from bone chilling temperatures and high mountainous terrains, Ladakh is also reckoned as a major Buddhist center since 3rd century AD. The eastern region of Ladakh has been under major influence of Buddhism while Islam has slowly developed in Ladakh's western regions owing to the infamous invasion of Ladakh by Tibet in the 8th century. In addition to this historical actuality, the troupes of gompas inhabiting here such as Shey, Alchi, Hemis and Lamayuru, have fascinated holy Buddhists and interested voyagers from all over the globe.
Special Ladakh Trekking Tours
Ladakh is considered as an ecstasy for trekkers and many more adventure lovers owing to the presence of one of the world's most high mountainous terrains and steep routes. Some of the most fascinating and most dreamt of mountain ranges are Greater Himalaya and the Karakoram, and two others, the Ladakh range and the Zanskar range. Luring adventure junkies from all across the world, Ladakh has a plethora of popular trek routes like Spituk to Markha Valley, Lamayuru Gompa to Chilling and Likir to Temisgam, Stok Kangri trek, Nubra Valley Trek, Trans Zanskar trek, Rupshu Valley trek and much more. The popular Zanskar River proffers the most demanding and testing rafting experience as a part of the river remains frozen during the winters. Such challenging conditions demand for a real caliber to put your limits at stake.
Our Contribution
We have expertise in offering the vacationers the best possible trekking tour packages at market leading prices. Moreover, we also pay attention on the amenities and assistance provided by us during the entire tour to assure a safe as well as memorable holiday experience.
We offer the widest choice of accommodation (including resorts, hotels, houseboats, Luxury Mobile Camps, home stays) in India. This means we have been very successful in matching customers' requirements (both interests and budget) to create the perfect holiday. We are able to make recommendations based on personal experience and feedback from recent clients to ensure we find the right hotel for our client requirements and budget.
The best way to see India is by road and our fleet of modern, well maintained vehicles will facilitate you in this regard. With our latest vehicles driven by experienced drivers, we ensure our clients take home wonderful memories from their tour.
Our communication systems are used extensively to impart flawless service to our clients. Our team is available online in SKYPE, other social media network & are accessible over mobile phone around the clock for assistance. Excellent infrastructure that we created over all these years' serves as a boon to all clients as they are given 24 hours' personal care & assistance.
TREKS
MARKHA VALLEY TREK IN LADAKH
The Markha Valley remains one the most popular treks and rightfully so as it is one of the most beautiful valleys in Ladakh offering all that one would want to see in such a short time span – shepherds' settlements, passes offering stupendous views of the snow capped mountains, villages which are dotted like oasis on this trail where you often cross paths with the local inhabitants. The scenery is excellent as you get to see this fantastic landscape in the changing light. The wide open pastures at Nimaling are a lovely place to relax with excellent views of Kangyatze peak (6100m).
Region: Ladakh Himalaya
Grade: Moderate
Duration: 16 Nights & 17 Days / 7 Nights hotel, 8 Nights, Camping 9 days trekking
Best Time: July and August
ON THE FOOT PRINT OF NOMADE OF CHANG-THANG
The Chang-Thang literally means the high altitude plateau located at the south east of Ladakh on Indo -Tibet border. The plateau is home of the Nomade ( Changpas ) who lives there with their herds, The trek starts form Rumtse to Tukche near Tsokar lake, A lake with its huge salt water deposit, Further trek toward Karzok the capital of Rupshu located on the bank of Tsomoririr lake with its turquois color. Trail winds to extreme south close to the ancients route of merchants and turns to the valley of Phertse phu river till Pang
Region: Ladakh Himalaya
Grade: Moderate
Duration: 17 Nights & 18 Days / 5 Nights hotel, 13 Nights camping, 14 days trekking
Best Time: July and August
LAMAYURU TO DARCHA TREK VIA PADUM PHUKTAL KARGYAT
Lamayuru to Darcha trek is the most popular trail into Zanskar valley via Shingo La. Lamayuru – Darcha trek starts from famous and ancient buddhist monastery of Lamayuru and proceeds into Zanskar though most isolated villages of Lingshet, Photoksar and then the headquarter of Zanskar called Padum. Further this trek leads you to Darcha in Himachal Paradesh via Phuktal and Bardan monasteries.
Region: Ladakh Himalaya
Grade: Challenging
Duration: 22 Nights & 23 Days / 4 Nights Hotel, 18 Nights Camping, 19 Days Trekking
Best Time: July, August and September.
LADAKH MOUNTAIN BIKE
Ladakh Mountain bike one of the extremely challenging adventure sport in Ladakh and Himachal region we spend some days acclimatizing in Leh during which we will undertake several day trips and biking excursions. Now we are all well acclimatized to take on the 473km grueling bike trip to Manali – considered one of the most classic bike trips. We ride up steep roads crossing a series of high passes, racing across the Moore plains and downhill on switch back roads. All along you pass through the most awesome landscape of high cliffs and rocky faces. As you cross the 4891m Baralacha pass which offers panoramic views of the snowcapped Mulkila range of mountains, you reach the semi arid Lahaul valley before finally crossing the 3978 Rohtang pass, gateway to the lush green apple valley of Manali. A tremendously challenging bike trip through spectacular and varied landscape seeing different cultures – this truly promises to be a mountain biker's – "MUST DO" trips in a lifetime!
Region: Ladakh & Himachal Himalaya
Grade: Challenging
Duration: 16 Nights & 17 Days / 9 Nights Hotel, 5Nights Camping, 1Night Lodge, 9 Days Mountain Biking
Best Time: July, August and Mid of September
AMAZING LADAKH BY JEEP TOUR (A CULTURAL ODYSSEY)
Ladakh by jeep In this cultural odyssey, we travel through the ancient kingdom of Ladakh, soaking in the beauty of its captivating landscape, visiting monasteries, villages, palaces and humble homes, meeting people from all walks of life and understanding their way of life and culture – a journey that will truly make you want to return – such is the mesmerizing effect of this enchanting Buddhist land called Ladakh.
Region: Ladakh Himalaya
Grade: Easy
Duration: 17 Night & 18 days / 7 Nights Hotel, 6 Nights Lodge, 1 Night Stok Palace, 1 Night Camping
Best Time: June – July August & September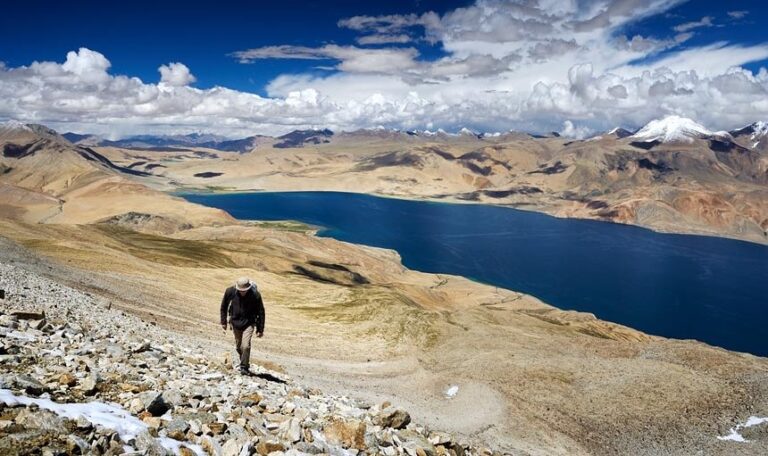 Region: Ladakh HimalayasDuration: 21 Nights 22 DaysDestination covered: Delhi-Leh – Rumtse-Kyamar – Kumur La-Tisaling – Shibuk La-Pangunagu – Nuruchan-Horlam Kongka La-Gyamabarma – Yalung...